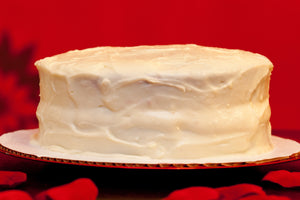 Just Velvet Desserts
Red Velvet 9" Round Cake
Regular price
$59.00
$0.00
Unit price
per
A 2-layered red velvet cake frosted with cream cheese icing. Cut yourself the perfect slice.
Reminder: We require 3 days advance notice for all orders. Please keep that in mind when scheduling your order.
Orders are fulfilled every Friday from 5:30pm - 6:30pm, Saturday from 11am-12pm, and Sunday from 12pm-1pm. There is a Safe Exchange Zone in Bowie, MD located in the parking lot of the Bowie Police Department, 15901 Excalibur Rd, Bowie, MD 20716. Please let us know when you would like to pickup your order.
---